from ananova.com: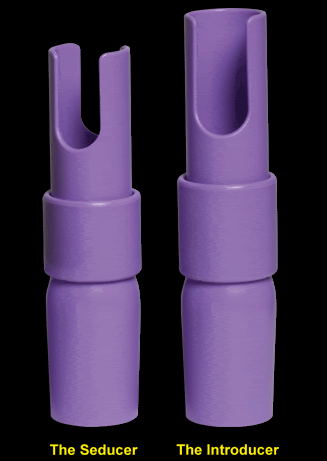 A US mother-of-three has invented a sex toy that connects to a vacuum cleaner to give an orgasm in just ten seconds.
The gadget, called Vortex Vibrations, works by concentrating the air flow to create a rapid and gentle vibration, reports the Sun.
Inventor Joanne Drysdale claims it can give multiple, back-to-back orgasms lasting up to a minute a time - and it does not even touch the skin.
The 49-year-old former toolmaker was cleaning her carpets when she came up with the idea for Vortex.
She saw how a piece of rubber that had got caught in the nozzle was gently resonating in the air flow. She also felt a soft stimulation to her fingertips as she tried to remove the rubber.
'At the time Joanne, from Utah, had not had sex for 15 years following her divorce.
'She said: "In my attempts to alleviate frustration, I began to think what I could do. I noticed how the rubber moved in the top of the vacuum. After several hours, I came up with the prototype. The first time I tried it I reached an orgasm within 10 seconds. That was when I knew I was on to something that could potentially bring pleasure to all women." '

Watch information video at vortexvibrations.com